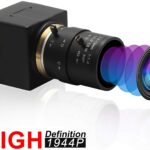 I finally upgraded my video only streaming camera from a tiny pico-cam to a KLP-USB500W02M-SFV(2.8-12mm).
The Pico cam worked well enough, but is auto-focus and about 6 years old. The auto-focus messes with where it would focus regarding the paper and pen. As my hand and pen moved across the paper, focus would shift.
The KLP is a manual focus, with a wide to telephoto adjustment, as well as a privacy shutter. Additionally it mounts either from the top or the bottom, so I don"t have to fiddle with flipping or rotating the image while streaming. I can use the image as is with little to no tweaking.
I"m greatly looking forward to trying it out!